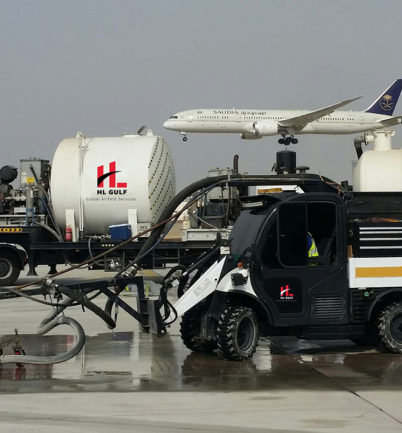 Delivering the Right Solution
Our inspection and testing provide precision in removing runway rubber build-up and other contaminants. Removing rubber build-up on your runways is an essential safety activity mandated by the aviation authorities.  Our rubber removal program and fleet are unmatched by others. We ensure no damage is done to pavement surfaces.  Our proprietary methods have been proven to speed up the removal process, without damaging markings, making it ideal to minimize runway downtime.
As a safety-focused company, we underscore the importance of performing routine rubber removal for safe operations and pavement asset preservation. HL Gulf has years of experience in addressing a variety of rubber removal needs and implementing the right solution. Our industry experience along with regulatory knowledge allows us to offer airports the correct process for eradicating rubber and other contaminants with minimal disruptions to airport operations.